BKI aims to generate an increasing income stream in the form of fully franked dividends, to the extent of available imputation tax credits, through long-term investment in a portfolio of assets that are also able to deliver long term capital growth to shareholders. All historical dividends paid have been fully franked.
As can be seen in the chart below, BKI has been able to increase Ordinary Dividends paid to shareholders through long term investing in good quality dividend paying companies. BKI has also distributed to shareholders eight fully franked Special Dividends since listing.
BKI Dividends Paid to Shareholders
BKI has paid out $1.09 per share, or over $700m in dividends and franking credits to shareholders since listing in 2003*
Note:
*Includes FY2020 Final Dividend of 2.32cps and Final Special Dividend of 1.00cps.
Long Term Dividend Income
An investment of $10,000 to purchase BKI shares upon listing in December 2003 would now be receiving fully franked dividends of $1,661pa.
The franking credits enhance the income by a further $712pa, assuming a tax rate of 30% (total income of $2,373).
The same investment in a term deposit (based on the cash rate + 0.50%) would be earning $234pa, pre tax and with no franking credits attached.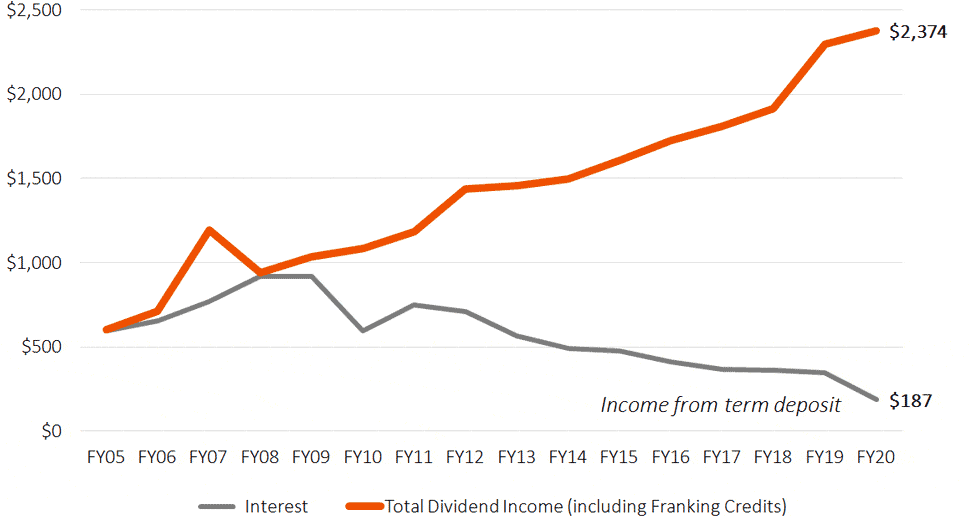 Source: BKI, Contact Asset Management, Factset. Assumes the reinvestment of dividends.
BKI – Dividend History & DRP Pricing
Ex-Dividend Date
Special
Dividend Per Share (cents)
Franking (%)
DRP Price *
Pay/ Issue Date
10-Aug-04
2.00
100
N/A
31-Aug-04
16-Feb-05
2.10
100
$1.13
28-Feb-05
15-Aug-05
2.20
100
$1.15
31-Aug-05
22-Feb-06
2.50
100
$1.32
10-Mar-06
17-Aug-06
2.50
100
$1.29
31-Aug-06
17-Aug-06
S
1.00
100
$1.29
31-Aug-06
26-Feb-07
2.60
100
$1.36
16-Mar-07
17-Aug-07
2.70
100
$1.42
31-Aug-07
18-Feb-08
3.00
100
$1.23
7-Mar-08
18-Aug-08
3.00
100
$1.25
29-Aug-08
20-Feb-09
3.00
100
$0.80
12-Mar-09
17-Aug-09
3.00
100
$1.14
4-Sep-09
22-Feb-10
2.50
100
$1.24
12-Mar-10
22-Feb-10
S
0.50
100
$1.24
12-Mar-10
23-Aug-10
2.75
100
$1.16
10-Sep-10
23-Aug-10
S
0.50
100
$1.16
10-Sep-10
15-Feb-11
3.00
100
$1.24
7-Mar-11
11-Aug-11
3.00
100
$1.10
31-Aug-11
11-Aug-11
S
1.00
100
$1.10
31-Aug-11
24-Feb-12
3.20
100
$1.17
12-Mar-12
10-Aug-12
3.20
100
$1.23
30-Aug-12
12-Feb-13
3.25
100
$1.47
28-Feb-13
12-Feb-13
S
0.50
100
$1.47
28-Feb-13
13-Aug-13
3.40
100
$1.56
29-Aug-13
11-Feb-14
3.45
100
$1.61
27-Feb-14
12-Aug-14
3.50
100
$1.66
28-Aug-14
12-Feb-15
3.55
100
$1.75
26-Aug-15
05-Aug-15
3.65
100
$1.60
26-Aug-15
04-Feb-16
3.60
100
$1.59
26-Feb-16
05-Aug-16
3.65
100
$1.60
26-Aug-16
10-Feb-17
3.60
100
$1.64
27-Feb-17
04-Aug-17
3.70
100
$1.64
23-Aug-17
12-Feb-18
3.625
100
$1.68
28-Feb-18
10-Aug-18
3.70
100
$1.55
29-Aug-18
08-Feb-19
3.625
100
$1.52
28-Feb-19
08-Feb-19
S
1.50
100
$1.52
28-Feb-19
09-Aug-19
3.70
100
$1.61
29-Aug-19
09-Aug-19
S
1.00
100
$1.61
29-Aug-19
08-Feb-20
3.625
100
$1.68
27-Feb-20
07-Aug-20
2.32
100
$1.42
27-Aug-20
07-Aug-20
S
1.00
100
$1.42
27-Aug-20
05-Feb-21
2.00
100
$1.51
25-Feb-21
06-Aug-21
3.00
100
XXX
26-Aug-21
* Note that DRP was introduced on 16/12/2005
BKI – Pricing of Equity Raisings (excluding take-overs & DRP)
Nature of Equity Raising
Issue Price
Issue Date
Initial IPO
$1.00
9-Dec-03
Share Purchase Plan
$1.075
9-May-05
Share Purchase Plan
$1.330
9-May-06
Rights Issue
$1.350
4-May-07
Placement via Dixons
$1.450
4-Sep-07
Share Purchase Plan
$1.200
7-Apr-08
Share Purchase Plan
$1.180
30-Sep-09
Share Purchase Plan
$1.290
8-Nov-12
Institutional Placement
$1.480
12-Sep-13
Rights Issue
$1.480
24-Oct-13
Share Purchase Plan
$1.655
8-Aug-14
Share Purchase Plan
$1.550
06-May-16
Share Purchase Plan
$1.580
22-Jun-17
Entitlement Offer
$1.500
26-June-18